Introduction:
The crease is a fold in fabric introduced unintentionally at some processing stages. Crease or crushing of textile material is a complex effect involving tensile, compressive, flexing, and torsional stresses. Crease recovery is a fabric property that indicates the fabric's ability to return to its original position after creasing. The principle of crease recovery testing is a wrinkle-free rectangular specimen of prescribed dimension is folded in half and compressed under a load for a specified time. The load is then removed, and the specimen is allowed to recover for the specified time. The amount of recovery is expressed as the angle between the fold's limbs, called the crease recovery angle.
Objectives:
To know about fabric crease.
To know about The Shirley crease recovery tester.
Come to learn working procedure of The Shirley crease recovery tester.
Apparatus:
Shirley Crease Recovery Tester.
Scissor.
Stop watch.
Deadweight (Glass plates)
calculator
The test must, of course, be on conditioned fabric and be made in a standard testing atmosphere.
Standard testing temperature:
An atmosphere at the prevailing barometric pressure with a relative humidity of 65% and temperature of 200 C is called standard testing temperature.
Preparation of test specimen:
A specimen is cut from the fabric with a template, 2 inches long by 1 inch Wide. We will cut 10 specimens, 5 for the warp way and 5 for the weft way. We take the specimen from a different place of fabric. But we should be avoided the selvages, the piece ends and creased or folded regions. Now every specimen is creased by folding it in half, placing it between dead weight. Weight of dead weight is about 2 kg. After 1 min, the weight is removed, and the specimen is transferred to the fabric clamp on the instrument.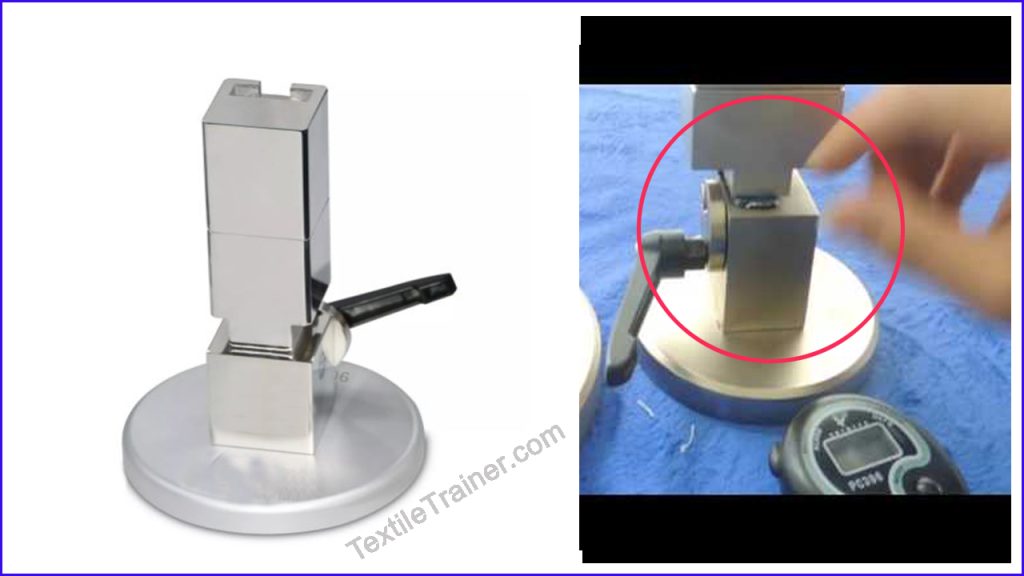 Working Procedure:
At first, the pressed specimen is placed between the clamping specimen. 
After placement, start the stopwatch. Now specimen started to recover its crease. At it recovers, the instrument's dial is rotated to keep the free edge of the specimen in line with the knife edge. Now we keep our eye continuously on the relaxation process.
After 5 min, from releasing the specimen from hand, the reading of the crease recovery angle is recorded.
This process is repeated for all remaining specimens. The result of the test is expressed in angle degree.
Warp and weft way recovery are reported separately. 
Now we will calculate the mean crease recovery angle separately. 
Calculation:
Final result: After completing the test specimen, we calculated the average crease recovery angle for individual warp and weft ways.
Crease recovery angle in warp way is 65.2o
Crease recovery angle in weft way is 41.4o
Precautions:
Test specimen should be conditioned at standard testing temperature.
Specimen have to cut be carefully.
Inspection the machine before start the test.
Conclusion:
From this experiment, we learned about crease recovery of fabric and The Shirley Crease Recovery Tester. We also learned the working procedure of The Shirley Crease Recovery Tester and how to calculate the crease recovery angle of fabric. We also learned some precaution have to maintain when we do this experiment. However, This experiment will help in our future life when we will do job in factory. Thanks to our teacher for helping us.
References
Booth, J. (2008). Principles of Textile Testing. New Delhi: CBS Publishers & Distributors.
Hamby, E. B. (1993). Handbook of Textile Test and Quality Control. New York: Wiley Eastern Limited.
HU, J. (2008). Fabric Testing. New York: Woodhead Publicatioing Limited.
Kazi Rashedul Islam is an "Assistant Technical Officer" at the Textile Engineering department at Jashore University of Science and Technology (JUST). He achieved his Bachelor of Science in Textile Engineering from Dhaka University of Engineering & Technology (DUET) in 2018. In 2012 he completed a Diploma in Textile Engineering degree from Begumgonj Textile Engineering College(TECN), Noakhali.