What is Grinding?
In a carding machine, the grinding process is used to maintain the good working condition of the wire points around all of the organs inside so that they can continue to perform at their best. Grinding in carding is important task. In order to keep the wire points of all organs in the carding machine in a good working condition, grinding is the process by which it is accomplished. With the activity of fibers and dirt as part of the card operation, the points of the wire gradually become poor carding units due to the action of fibers and dirt. As the points become duller and lose their sharpness, the fiber hooking functions are weaker, which is why it is important to grind the cards to keep them sharp.
Methods of Grinding in Carding:
There are two methods of grinding in carding. They are:
Traverse wheel grinding.
The dead roller or long grinding roller.
1. Traverse wheel grinding:
A traverse wheel grinder uses an emery roller with a width of 3.5 inches which is pulled from one side to another in the traverse motion. This grinding method offers some advantages. There is a possibility of better grinding action by means of this grinding method. There is no risk of wires being hooked or fused.
2. The dead roller or long grinding roller:
This method of grinding uses a long grinding roller for high speed grinding. It is used to produce low and medium count yarns. The roller is covered with emery fillet.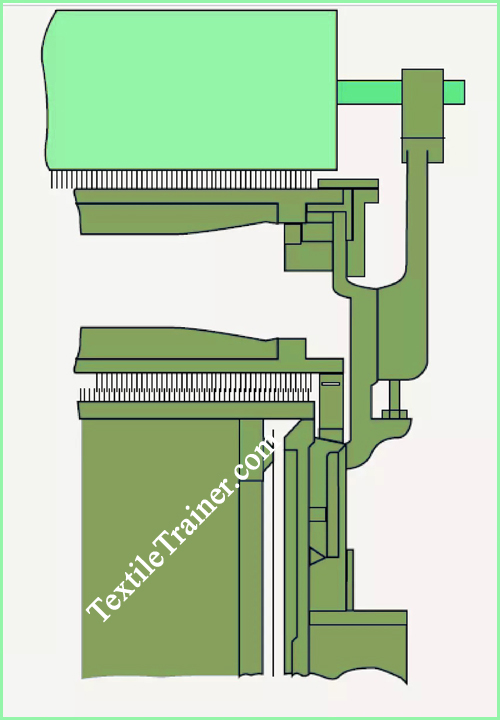 Factors of grinding interval:
For the purpose of selecting the interval of grinding, it is important to keep in mind the following factors:
Type of raw material:  If the raw material is man-made fibers, then the interval between grinding is chosen according to the type of raw material. When man-made fibers are being processed, then grinding occurs more often but more lightly than when cotton fibers are being processed.
Degree of unnepping:  In order to improve the degree of unnepping of the card cloth, based on the decrease in performance, a frequent unnepping grinding interval will be scheduled.
Neps mill limit: In order for the interval to be selected properly, it is best determined based upon the mill's nep limit. The target neps level in card sliver according to the yarn quality is the same in all spinning mills. The critical neps limit is determined by the mill's management depending on their product quality and productivity.
Type of card clothing: It is important to note that the grinding interval for cylinder, flat and doffer card cloth varies depending on the type of card cloth used. For example, doffer clothing works very little in comparison to cylinder clothing, so it is recommended that the interval between grinding for doffer cloth is half as frequent as that for cylinder cloth. The flat clothing is ground frequently because it is flexible and the degree of work load is higher than that for cylinder loads. In the case of the clothing on the licker-in, it should not be ground; it should be renewed after a throughput of 100000-20000 kg.
You May Read:
Reference:
Chowdhury, M. F. (2016). Manual of short staple spinning. Dhaka: Granthanir Prokashoni.
Hossain, M. S. (2014). Introduction to Textile Engineering. Dhaka: Books Fair Publications.
Kadolph, S. J. (2006). Textiles. New Delhi: Pearson Education.
Prof. Dr. Engr. Ayub Nabi Khan, E. M. (2088). Principles of short staple spinning. Dhaka: Books Fair.