Introduction:
In this article, I will describe top 10 types of silk fabric in the world. To make a luxury dress for you, specially in wedding dress. You can use silk fabric for you wedding dress. Before going to the main discussion, let's come to learn about silk fiber. A silkworm is an insect that makes threads to build their homes, called cocoons. Silk fabric is a very special fabric that comes from this insect. These threads are carefully woven into fabric by people. It looks shiny, feels soft, and feels magical. People have loved silk fabric for centuries because it is smooth, shiny, and strong. It is a luxury and highly prized textile known for its smooth, soft texture and natural sheen. It is made from the fibers produced by the silkworm (scientifically known as Bombyx mori) during its cocoon stage. Silk production involves carefully unraveling these fine threads without breaking them.
Types of Silk Fabric:
Silk fabric is frequently used in many products as like; clothing, lingerie, ties, scarves, bedding, pillowcases, and drapery. In addition to fashion, interior design, and textile production, it is also used in many different industries. However, some special silk fabrics are listed below with picture.
1. Plain Silk Fabric:
In this category, silks are spun from thin to deluxe qualities. Handloom and power loom fabrics are used to manufacture fabrics in this category. These fabrics range from 20 gm to 70 gm, and are available in various shades as well as checks and stripes. The pine stripes are famous for shining. Exporters use plain silk for making ladies blouses, fashion garments, made-ups and scarves. Additionally, deluxe and super deluxe qualities are available upon request.
2. Charka Silk:
There are two types of fabric made on handlooms, spinning in warp and charka in welt. In the majority of the zari decorative sarees, charka yarn is typically used by the saree manufacturers.
3. Chiffon:
With the use of highly twisted yarn, a thin but strong fabric is produced on power looms, which after processing and finishing achieves a soft and smooth texture. Chiffons are used for a wide range of end-uses, including ladies garments, scarves, and stoles.
4. Dupion Fabric:
Dupion is a specialty of Bangalore Handlooms. It is made from spun warp and dupion weft and available in various quality ranges. Dupion checks and stripes are elegant in appearance. A popular name among overseas silk makers, dupion is primarily used for dress material and cushion covers and furnishings.
5. Matka Fabric:
By using matka yarn for both warp and weft of the textile, a thicker fabric is produced to meet the demands of furnishing. Presently, the fabric mostly produced in Bhagalpur is a very popular export item, which is mainly used for furnishing. By using multiple yarns, the texture of the fabric can be changed according to its intended use.
6. Crepe:
There are many uses for crepe, which is produced by two-ply twisted yarn of both 's' and 'z' twists, woven on power looms, and it is used for many different purposes. Mysore crepe saris are very popular both domestically and overseas.
7. Organza:
There are many uses for organza, including use as a sari material as well as material for embroidered garments and garments made from it. Organza is a very thin fabric made from highly twisted yarn that is starchy finished to give it its rough texture.
8. Satin:
This popular variety of fabric is silk satin, which can be used for a variety of purposes. Satin dresses are the best-looking satin dresses in the world. Banarasi Satin Sarees are among the most popular choices for export and domestic use.
9. Chinnon:
This fabric is also made from highly twisted yarn of spinning power loom. After the final finishing and processing, the fabric has a soft but crimped appearance. This fabric is ideal for making dresses for ladies and scarves for women.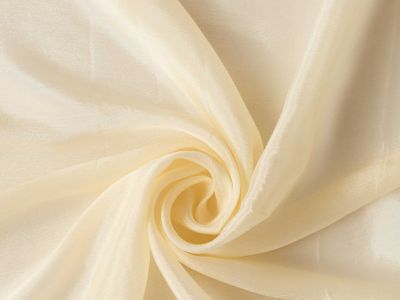 10. Murshidabad Silk:
It is a popular silk fabric that is produced in the Murshidabad district of West Bengal. The fabric is mostly used to make saris and scarves, but it is also available in different grades, such 16s, 18s, 20s, and so on.
You May Read: