Latest development of modern carding machine is described in this article. A carding process involves brushing raw or washed fibers, in preparation for textile production. Many kinds of fibers can be carded, from dog hair to llama silk to soy silk. Cotton, wool, and fat are the most common ones. However, not all fibers are carded; Flax is threshed. In carding, entangled fibers are reduced to a filmy web by working them between two closely spaced, relatively moving surfaces closed with sharp points between two closely spaced surfaces. Just after the blow room process, it is a preliminary process in spun yarn technology.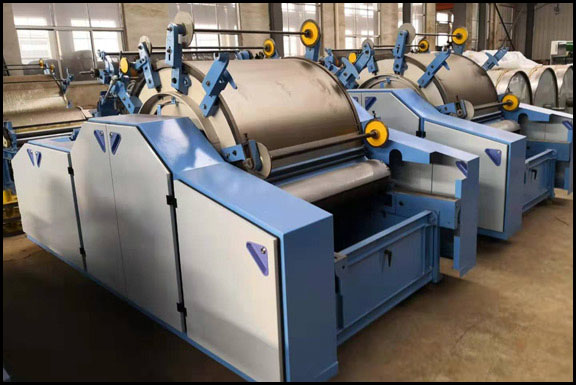 Latest Development of Modern Carding Machine
Higher production rate:
There is a significant increase in production rate due to higher carding roller speed and a larger working width (1.5m).
AUTO & improved leveling optimizer
The automatic leveller sensor measures and evaluates mass variations at various points in the card frame, such as the chute, feed rollers, and calendar rolls, and levels them out with the digital servo drive in order to ensure optimal card sliver quality through improved levelling technology.
AUTO card distance optimizer: "electronic feeler gauge"
Carding distances have a significant impact on quality, as everyone knows. However, it is quite surprising that every high-production card is subjected to a carding distance difference of up to 10/1000″ (0,25 mm) between cold and warm conditions. Therefore, this big difference has yet to be detected and displayed, which makes the user unaware of it. All in all, this is an unsatisfactory situation. In the cylinder surface and associated devices, the AUTO card distance optimizer sensor monitors and evaluates information about contact, temperature, rotational speed, and actual setting values. The recommended optimal distance setting is done automatically or manually, e.g., with Truetzschler's T-con.
Auto sharpening:
It is an automatic grinding system that scans and verifies the sharpness of card cloth and sharpens, if necessary, with the stoppage of the machine. It is an IGS-integrated grinding system from Rieter.
High card surface:
In addition to the higher active carding area and longer carding length, the higher production rate and quality of the card sliver are greatly improved.
Improved pneumatic suction technology:
Cleaning technology is centered around pneumatic suction. Suction over a greater area and a consistent suction rate are requirements for modern card frames.
AUTO quality control:
High-performance sensors are used at input and output positions to measure the quality variation, and improved technology ensures that the variation is corrected. e.g. NCT and Sensofeed+ from Truetzschler are examples of high-performance sensors.
State of the art stop motion:
The card frame is equipped with improved stop motion with state-of-the-art stop technology in order to ensure the safety of the user.
Online quality control:
In the field of online quality control, the development in the field of online quality control has enabled the card frame to improve its productivity by delivering optimal card slices. The scope of online quality control is based on the following fields: Spectrogram monitoring, thick place monitoring, and spectrogram analysis.
Automation:
As a modern carding machine, many automation can be used, such as automatic material transfer, the automatic can changer, the automatic production monitoring system, quality monitoring, and machine monitoring.
You may read:
References:
Belal, P. D. (2016). Understanding Textiles for a Merchandiser. Dhaka: LB Graphics & Printing.
Chowdhury, M. F. (2016). Manual of short staple spinning. Dhaka: Granthanir Prokashoni.
Corbman, B. P. (1987). Textile Fiber to Fabric. Singapore: McGraw Hill Book Co.
Prof. Dr. Engr. Ayub Nabi Khan, E. M. (2088). Principles of short staple spinning. Dhaka: Books Fair.